...weeping may endure for a night, but joy cometh in the morning. Psalm 30:5
"Spiritual abuse occurs when someone in a position of spiritual authority, the purpose of which is to 'come underneath' and serve, build, equip and make God's people MORE free, misuses that authority placing themselves over God's people to control, coerce or manipulate them for seemingly Godly purposes which are really their own."

Jeff Van Vonderen
Introduction
The primary purpose of this page is to allow those of us who have left Grace Valley Christian Center (GVCC) or another abusive church to share how we have, by God's grace, moved on and continued with our lives. It will include some basic accounts of events leading up to our departure as well as activities and resources that have helped in the healing process. (A separate wiki by this name is also being created.

Feel free to visit!)
How the Honeymoon Became a Nightmare
(Many of the experiences below have already been shared on the experiences, talk, and allegations pages, so for detailed accounts we'd suggest you go there. Here we're simply going to briefly explain why we left. Due to fear, some have posted under a pseudonym. We invite anyone who has left GVCC to put their story here. Let the focus of this page be on recovery, so that if others follow, they may see that it can be done!) —RichLindvall

"Watch out for false prophets. They come to
you in sheep's clothing, but inwardly they are
ferocious wolves." Matthew 7:15
General Observations
Let's face it, the dynamics of power are the same in every area of life: people fight to get it, then to keep it, then to increase it. It's the same in university departments, the workplace, politics and also in some churches. The reason it is so reprehensible in a Christian church is because it is a violation of the nature of Jesus, who "...did not come to be served, but to serve, and to give his life as a ransom for many." (Mark 10:45) So, if you were abused "in the name of Jesus," realize that you were horribly wronged. Some even call it "spiritual rape." Jesus isn't that way at all. In the words of the hymn

"Softly and tenderly, Jesus is calling..." Jesus says "Come unto me all you who are weary and heavy laden and I will give you rest." (Matthew 11:28)

Jesus still loves you as much as ever and he knows the pain you've been through. He'll walk with you through your healing. But it will take time. And lots of tears...
Recognizing Spiritual Abuse
In his article

"Dysfunctional Churches" Christian Professor and author

Ronald Enroth writes "If truth in advertising standards could be applied to religion, some churches would be required to display a sign reading: "Warning: this church could be harmful to your spiritual and psychological health."
He continues:
"What are the hallmarks of unhealthy, aberrant churches? The key indicator is control‑oriented leadership, ministers who have a need to "lord it over the flock." Abusive leaders demand submission and unquestioning loyalty. The person who raises uncomfortable questions or does not "get with the program" is cast aside. Guilt, fear, and intimidation are used to manipulate and control vulnerable members, especially those who have been taught to believe that questioning their pastor is comparable to questioning God."
"Why does a pastor or priest sometimes turn into a spiritual tyrant? I believe it is because of the human desire to control others and to exercise power over people. Each of us has been exposed to the temptation of power, whether in the role of spouse, teacher, or parent. An excessive will to power, coupled with sincere religious motives, can lead to the misuse of spiritual authority."
"More than any other age group, young adults are attracted to abusive churches, their seemingly dynamic programs, and their "take charge" leaders. Such churches often target young couples during the crucial child‑bearing years. As a result, the energy needed by these young couples for legitimate family interaction is siphoned off into a high intensity cause. Family obligations are sacrificed, and children's developmental needs are neglected."
"How can we recognize a healthy church? In addition to matters of appropriate doctrine, a healthy church is reconciling and restorative, not adversarial and elitist. Members of healthy churches seek to deepen and strengthen their family commitments. Legitimate leaders will welcome dissent and hard questions from members without threat of reprisal. Trustworthy leaders will encourage accountability, and they will establish checks and balances."
"Choose a church carefully and prayerfully. Remember, not all religion is benign, and not all church experience is beneficial."
All the earmarks of an aberrant and abusive church described by Dr. Enroth are found in Grace Valley Christian Center (see Grace Valley Christian Center/Allegations).
The Grieving Process
Leaving an abusive church is much like experiencing a death. You will undergo many of the same emotions. Understanding the stages of death and dying (e.g.

Kübler-Ross's model) will give you a better understanding of what you're going through. Chief among the losses is that of your

"forever friends" who are suddenly treating you as an enemy. How can it be that people you love, whom you've shared meals with, studied the Bible with, prayed with, are now crossing the street to avoid you, hanging up the phone, even shouting at you in anger? How can one man, claiming to represent a loving and merciful God, take away all your friends? It's like something out of the

Twilight Zone! Yet, in the midst of your living nightmare, never let go of the fact that we serve a God who

makes all things new! And that you've got

friends in high places!
Talk, Talk, Talk
When you first walk away from an abusive church it's very important to be able to talk about it with someone. The more times you're able to "tell your story", the less of a nightmare it becomes. Other people who haven't shared in your experience will often find it hard to believe. So, it really helps if you can find someone who has been through a similar experience. Some of our most healing conversations after we left GVCC were with other former GVCC members who had left before we did and could relate to and share in our suffering. As we read in scripture:
"Praise be to the God and Father of our Lord Jesus Christ, the Father of compassion and the God of all comfort, who comforts us in all our troubles, so that we can comfort those in any trouble with the comfort we ourselves have received from God." 2 Corinthians 1:3-4
So, remember, it's not for nothing that God allowed you to undergo such terrible times. For, in the days ahead, by God's grace you'll be better able to comfort others who follow in your footsteps! And in Christ's hands the pain and hurt will look "

less like scars and more like character!"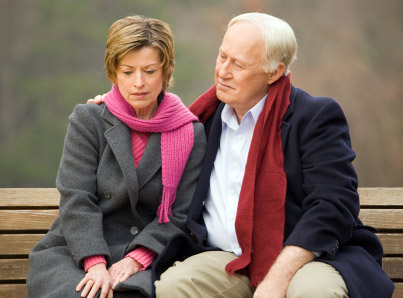 Will The Real Jesus Please Stand Up?
If you've experienced spiritual abuse then your view of Jesus and God has been terribly distorted. Just as a child's view of a father is shaped by their own personal experience, so a Christian's view of God and Jesus is shaped by their experience with leaders in the church. The Bible uses the analogy of a shepherd caring for a flock of sheep to describe the relationship between a Christian leader and followers of Christ. The shepherd is to lovingly care for and serve the sheep—not to abuse them! But sometimes a shepherd DOES abuse the sheep. In that case it is critical for the abused "sheep" to recognize that, just as there are good and bad fathers, there are also good and bad shepherds. God is still good—all the time! If you've been hurt "in the name of Jesus" please take time to re-explore

the father heart of God!
Another way that abusive shepherds wound the sheep is by reminding them of past sins. Well, according to God's word,

"...as far as the east is from the west, so far has he removed our transgressions from us." (Psalm 103:12)

"He tends his flock like a shepherd:
He gathers the lambs in his arms and
carries them close to his heart; he gently
leads those that have young." Isaiah 40:11
A Blessed Hope!
Some days as you're dealing with the grief and loss you may wonder if it's worth getting out of bed in the morning. Remember,

we are not home yet! Someday we'll all be together,

dancing with our father God in fields of grace. And we know

the best is yet to come!
Our prayer for you is that you never give up on Jesus and that you cling to his promise that "he who began a good work in you will complete it." (Philippians 1:6) In addition, that you will

trade your sorrows for the joy of the Lord! And one day, by his grace, you'll again remember that living for Jesus really is

the great adventure! And along with the original disciples of the true shepherd, you'll be willing to live and to die

for the sake of the call!
Moving On
In the spirit of Philippians 3:13 "Forgetting what lies behind and reaching forward to what lies ahead" the following people have moved on from GVCC and are continuing to live victoriously for Jesus. They are trusting that, according to Joel 2:25, the Lord will "restore the years that the locusts have eaten." And they are experiencing the truth of 2 Corinthians 1:3-4: "Praise be to the God and Father of our Lord Jesus Christ, the Father of compassion and the God of all comfort, who comforts us in all our troubles, so that we can comfort those in any trouble with the comfort we ourselves have received from God." If you have left GVCC or are thinking about leaving and would enjoy comfort from someone who knows what you're going through, please feel free to contact us!
Articles/Letters Written By Former Members
Other Articles
The following articles by Richard Damiani are also available at the

Recovering From Spiritual Abuse wiki:
Books
Videos
These presentations are part of a 10-part course entitled "Breaking the Silence on Spiritual Abuse". In addition to Jeff VanVonderen, this series includes presentations by Dave Johnson and Lynn Heitritter.
Web Sites
Comments:
Note: You must be logged in to add comments
2007-10-30 10:36:13 I think you need to define what spiritual abuse is in this article, I still do not fully understand it. —JamesSchwab

---
2007-10-30 11:44:10 I think "spiritual abuse" is a term used to describe emotional or mental abuse committed by leaders in a church or other "spiritual" group. —PxlAted
---
2007-10-30 11:47:03 regarding the line at the very top of the article....some would include atheism as a kind of spiritual abuse. —RocksandDirt
---
2007-10-31 08:31:51 Admittedly, the focus of this page is on spiritual abuse in Christian churches. The dynamics of abuse, however, regardless of the setting (family, workplace, church, etc) are quite similar. Basically, it's how one in authority uses (or abuses) that authority over those beneath them. Whether Christians or not, we can all be agents of healing in the lives of those around us through listening, feeling "with" the other (extending empathy), even just providing a safe place to cry. In the

Prayer of St Francis we find much of that summed up:

"Lord, make me an instrument of thy peace..." —RichLindvall
---
This is a fantastic entry, so much so (and so general purpose useful) that it might be a good idea to use it to

create a wiki about the subject. At this point, it could also start gathering Davis relevance, but it could also blossom into a general community wiki for people all over the world to use. —JabberWokky
---
---
2007-11-02 22:31:07 I am glad to have found this page. I came to Davis a year ago, after having spent 13 years in a very spiritually abusive church in another city. I would say that there is no way for me to ever recover after so many years of controlling and rejecting treatment, but I know that God is bigger than anything I have been through. I am now attending (somewhat regularly) University Covenant Church, but have not been able to commit to the church or to tie in in any way. UCC seems really stable, non-controlling and "normal" - which is all very scary to me after so many years of bad religion. Some day I hope to trust again. I met the Senior Pastor, and he seems really kind and non-threatening. The congregation all seems welcoming as well. Maybe someday I will reach out and take a chance. Maybe try again...? —incognitoTA
---
2011-01-01 19:25:30 I was really abused by a few pastors in Davis. I left a spiritual group in Davis because of an abusive pastor. I told the pastor I was leaving. He responded by calling other churches in the area and telling them real horrible things about me and my personal confessions to them. This article has been very helpful in helping me. —Dozer
---
2011-01-06 13:32:04 Some helpful info for those addressing this type of issue. I have been there and I had to deal with a very difficult situation involving a former Pastor at a church I attended as a teenager. Churches have surrounding groups or organizations they are affiliated with. Contacting these groups may lead to pressure being exerted to help force reform or address the behavior of a specific church or even a specific person in a clergical position. I wish you that healing grace come to you in your time of need. —PeteB
---
2011-05-14 13:29:16 This was very helpful I got spiritually abused at UUC's group Catalyst and this article helped me come back from suicidal thoughts. Thank you so much for all your help. —Dozer