Bike stolen from front porch  
Roadmaster Granite Peak
Date or Date Range that your bicycle was stolen. Make sure to include the year. 
Place your picture(s) here. Double click on your picture and set the width to no greater than 600. Remember, not everyone has that 27-inch iMac. People can always click on your picture to see it bigger.  
Place your description here. Be as descriptive as possible. Color, make, model, accessories, stickers, serial number, wheel size, etc. Include contact information. Name, phone, email address, etc.
Yuba Boda Boda electric-assist cargo bike stolen 12/16/21 from UC Davis campus
It's a "champagne" colored Boda Boda with the bread basket, electric motor for electric assist, and 2 Yepp child seats - 1 blue and 1 orange. There were also three helmets, a pair of gloves, and other assorted accessories. The rear wheel was locked in place with a metal bar so I'm hoping maybe they won't be able to use it... if you see it please contact me or the police! Meryl Motika, 510-290-6327, madamemim@gmail.com. Police case number C21-1225, serial number A9C02626, UC Davis registration number 4269619.
Scattante F570 and Trek Earl stolen 10/9/20 from Clearwater Apartments
I don't have a picture of the Trek, but it's a lime green fixed gear bike.
Please contact Nick (naulle@ucdavis.edu) if you have any info.
YESS BMX bikes stolen 1/18/20 from UC Davis parking lot
One cruiser YESS bmx bike, one new model 20" YESS bmx bike, tool box with YESS stickers and black FLY helmet. Stealth and Onyx hubs. HT clips. I race for YESS and depend on my bikes for my scholarship. Any eyes looking would be so appreciated!
Please contact the Davis police or evebowers4@gmail.com if you have any information.
Schwinn 700c Connection bike stolen from outside Physics building.
Bike license no. is 4255361. Please contact at jrcomey@ucdavis.edu.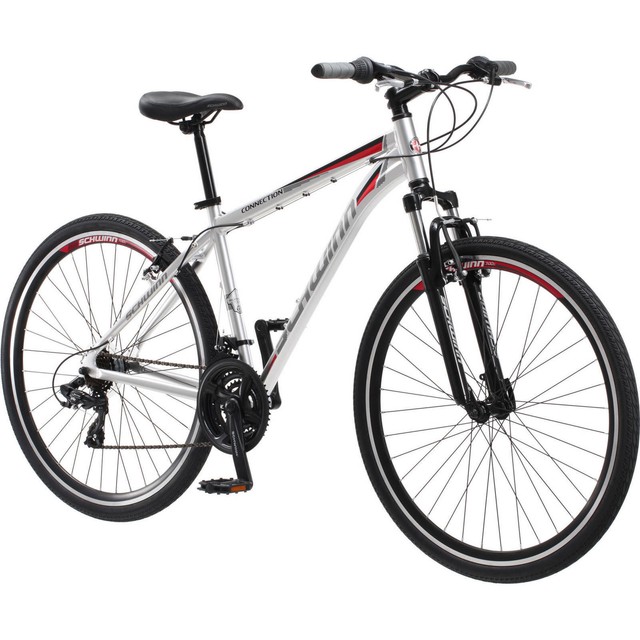 2018 Specialized Men's Sirrus stolen from Cesar Chavez Elementary bike parking lot on March 1st 2019
My son left the bike overnight and it was gone the next morning. Only the front wheel was locked, because the with the single-grid type bike rack it's often impossible to lock the frame. The thief removed the bike and left the wheel locked. The bike is his main method of transportation and now he needs to walk to school. Please, contact us if you have any leads.
Here's the bike on the website of the store were we purchased it:
https://www.kensbikeski.com/product/specialized-mens-sirrus-v-brake-356385-1.htm
And here's a picture of him with his bike the day we purchased it (less than a year ago):
Contact info: Ignacio Castano - castano@gmail.com or 530-665-9515
2014 Marin Bolinas Ridge 29er Hydro stolen at El Macero Village Apartment on 3/9/18 around 2 AM
Bike Description: 2014, Marin Bolinas Ridge 29er Hydro Bike, black, with disk brakes, a lockout for the suspension on the left side and a hand pump tied on the center bar. No kickstand.
My boyfriend's bike was stolen from our apartment patio last night around 2 AM. The thief climbed up into our patio, cut the lock and ran off with the bike. Thief description from a neighbor- wearing a hoodie around 6 ft tall. A police report has been filed but we are putting a shout out if anyone sees this bike to please reach out to me. We thank you for all of your help!
Contact info: Jessica Jones, jessica.m.jones1990@gmail.com or 707-696-1963.
2013 Specialized Allez Compact stolen at Sorrento Apartments (South Davis) on 10/28/2017 after midnight.
Black w/ gray accent Specialized road bike with a bottle cage. Bike is registered with license #4183503. This bike means a lot to me cause I've had my best cycling adventures on it. Appreciate anyone who sees a similar bike and checks the license sticker located on the seat post. Please contact me at (415) 990-8539 or pamidjojo@ucdavis.edu if found. Thank you!
----------------------------------------------------------------------------------------------------------------
Grey Trek Hybrid bike stolen from outside Veihmeyer Hall on 9/29/2017 at 5:00 pm
Bike has a license sticker #3944181. If similar looking bike is seen, please check for sticker (located under seat). I hope to find this bike back soon. 
Please contact me at kaiwu@ucdavis.edu if you have any leads.
Ancheer/Dyu white electric bike/ scooter/ ebike stolen from 1225H ST (Academy Lane) Sept 23rd 2017 6:30pm- 9:00pm
Yes, it was stolen in 3 hrs... and the chain lock was cut and abandoned in the middle of the road. I could connect it with my phone through bluetooth lock/unlock and this is a pretty distinct looking scooter/ebike. It was not registered as I just got it on Sept 20th, 2017... The first time ever I locked it outside briefly and it is stolen now. It should not be able to ridden as I locked the engine power system through the app. However, someone could have figured a way to jail break it.
If you've ever seen this on the street plzzzzzzzzzzzzzzzzzzzzzz send me an email or phone call.
Wenting 
lwenting@ucdavis.edu
2066056979
Thank you!!!!!!!!!!!!!!!!!!
----------------------------------------------------------------------------------------------------------------------------------------------------------------------------
Women's green Powercurve Softride Cross 360 stolen from Center for Neuroscience September 16th-21st 2017
Powercurve Softride Cross 360, 21 speed. Seat arm of bike modified at attachment so seat can be lowered. Vittoria Rubino Pro tires. Black wire basket directly behind seat. Red spectra rope below seat arm to hold wire basket frame in place. (photo taken before these were added). White reflectors on wheels, handlebars, red reflector below basket. White reflective stickers on frame, frame damaged by rust. Back breaks not functioning.
Bike was stolen from rack in front of doors of Center for Neuroscience building (1515 Newton Ct) approximately September 16th-21st, 2017. Bike was locked to rack with U-Lock and cable, U lock was found cut on the ground with cable. No serial number, not registered. Please email me at akmelcon@outlook.com if you have any information
Specialized Vita Sport (white/indigo/turquoise) stolen from Russell Park Apartments July 18-19 2017
Large Women's Specialized Vita Sport bicycle (looks just like stock photo above (white with indigo and turquoise print) but with black fenders and black basket mounted on back). Stolen from bike rack of 423 Russell Park apartment building on the night/morning of July 18-19, 2017. All but front wheel stolen. Long scratch on upper frame bar. Serial #: WSBC602163098K. Please email selagle@yahoo.com if you have any information.
KHS sixfifty 200 black and pink bike stolen March 2 2017
Black and pink mountain bike stolen from Academy Lane Apts, on F street. The bike frame and rear wheel were detached from the front wheel, which was attached to the bike stand using  a U-lock. The cable lock that has been used to lock the rest of the bike was cut. Please write to pamvenky@gmail.com or contact 352-378-7535 if you have any information. The serial number on the bike is R15006362 and the license number is 4221301.
--------------------------------------------------------------
Giant Seek 3 Hybrid Commuter, Stolen Nov 15,2016, 1AM-5AM Alvarado Parkside Apts
Matte grey with a neon yellow front fork bar, Continental tires, rear rack, and attachment for a bike light on the handle bars. Stolen from in front of our apartment, Alvarado Parkside, just across from the High School during the wee hours of the morning. Was locked with a heavy duty U-lock. We had two previous attempts (reported to police), as indicated by cut marks on the U-lock in the past two months. I guess someone finally brought some heavy duty hack saw...  Please call or text 916-757-8492 if you have information. 
Stock Photo
<div>
2012 Scott Sub 20 size Large with rack and dual baskets stolen August 8, 2016 between 7:30-8:45 PM
Stolen from in front of Kaya Yoga, 612 4th St, Davis, CA. Aluminum-framed bike , dark grey with gold decals, had rack and dual, black, steel Wald baskets, white foam grips, WTB Test Ride saddle with yellow, reflective stickers on spokes midway, reflective sidewall on front tire. The pedals were large plastic platform for street shoes. I haven't found my serial number yet. The lock was cut and a Louis Garneau helmet with red, white, and silver as well as the lock were taken. The front chainring is a double which makes the gearing 2x9. Please call or text 206-795-5807 if you have information. 
I can't seem to properly upload the pic
https://www.evanscycles.com/scott-sub-20-2012-hybrid-bike-EV153075
--------------------------------------------------------------
Green Surly Long-Haul Disc Trucker stolen March 10, 2016
It's a dark green hybrid bike that currently has street tires on it. It has front and back disc brakes on it, with green pedals and handlebar grips. The handlebar grips are made by Salsa. It also has a cable lock around the base of the seat a partially through the frame. It doesn't have reflectors on the pedals or the  tires at the moment. It's a 27-gear bike with Shimano parts.
It was stolen from my garage in the Greene Terrace area around 9 in the morning on the 10th of March. I've filed a report with Davis PD, but I'm mainly looking to get my bike back. If you see it, I'm offering a reward for any tips to help me get it back or cash to get it back without any questions asked. Please call or text me at 818.554.3750 or email me at justjeff1983@att.net 
--------------------------------------------------------------
Red Brilliant Co single-speed touring bike stolen the weekend of Feb. 6-7, 2016 
Matte dark red touring bike with riser handlebars, tan grips and seat, mismatched front and back wheels (front wheel is 700c x 32mm with a silver rim, back is a narrower road bike tire with a black rim), Shimano internal-gear hub, and a red back reflector. Photo is of my bike BEFORE the back tire was replaced.
Stolen off the building A bike racks at the Renaissance Park apartment complex in South Davis (3000 Lillard Drive) between 5:30pm on Friday, February 5th and 10am on Monday, February 8th. 
Please call or text 510.282.6076 with information. $25 reward for a tip leading to the recovery of my bike, $50 reward for its return (no questions asked.)
--------------------------------------------------------------
Fuji Touring bike stolen on the night of Feb 1st - 2nd. 2016
Bike was tied to post inside carport on 800 block of Dst street, Davis. Bike was tied with flex Kryptonite lock and U-lock. Brown, 56in, 700C wheels, 3x9 speeds, Shimano Tiagra components. Back rack and front light. New front Continental Gatorskin tire placed the day before. Bike manufactured 2006-7. Picture is of my bike.
Please call 510-229-2952 with any info.
--------------------------------------------------------------
GT iDrive mountain bike stolen the night of Feb 1 and Feb 2, 2016 in front of Emerson Hall in the Cuarto residence halls
Don't have a picture of the actual bike, just a google image for reference.
call (858)-731-6746 if you have any info.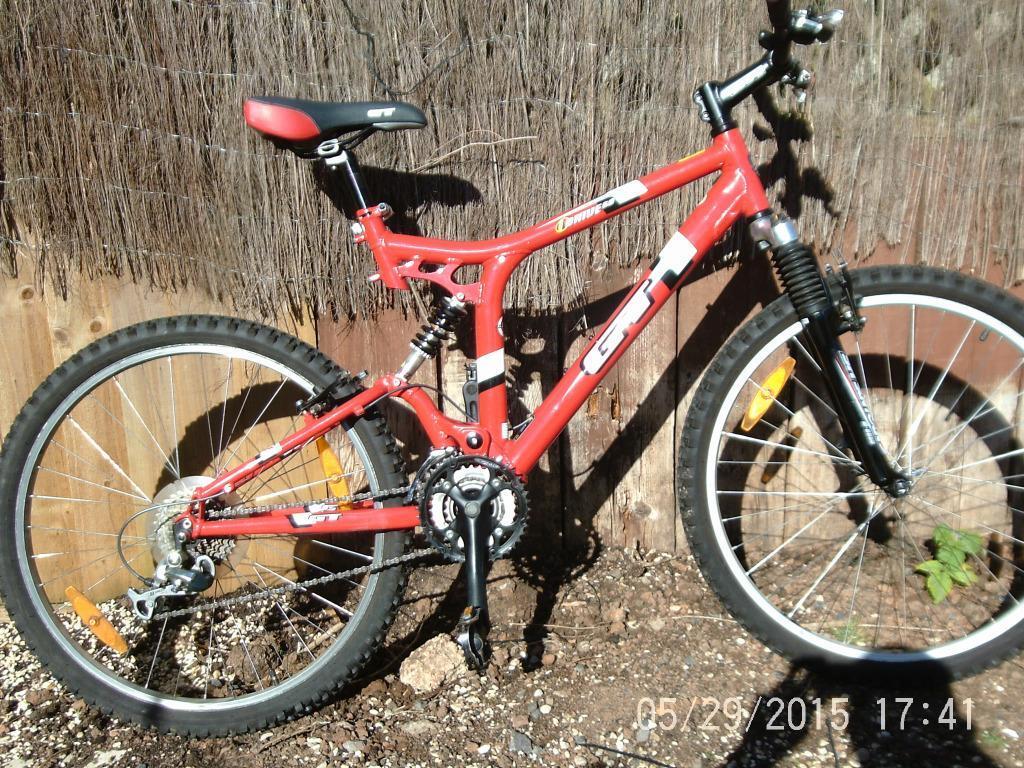 --------------------------------------------------------------
Andrew Kemper / Pure Fix Single Speed Bike / Stolen from 800 Adams St. between 5pm, Feb 1, 2016 and 8am, Feb 2, 2016.
Please call 661-886-2962 with any info.
--------------------------------------------------------------
Gary Fisher Full Suspension Mountain Bike Stolen Jan 12th 2016 in front of Davis Roots at 2nd and E street between 2pm and 4.30pm
Call if you have seen it - 972-948-8355
_______________________________________________
Stolen 12/22/2015 from in front of Blaze Pizza
Specialized Pitch Sport Mountain Bike
Neon yellow/green
email: mackfee@hotmail.com
___________________________________________________________________________________
Stolen December 8th from Davis Community Park between 3:15 - 4:00
My son had his bike stolen during swim workouts. According to him it was left locked at the bike rack between tennis courts and swimming pool. He's 8, so chances are it wasn't locked properly. It's a Ferrary CX-30 (20 inch). Has 12 gears and disk breaks. It looks more expensive than it is. Here's a picture of him riding it:
Email: castano@gmail.com
Cell: 530-665-9515
___________________________________________________________________________________
Stolen November 24th from 1-5am from Sorrento Apartments
This is my bike, except I also put orange badminton overgrip on the handles and two stripes of overgrip on the top tube of the bike. There's also a pretty spiffy bell. There are some marks on the left front fork from my u-lock. 
Email: aawho@ucdavis.edu
Cell: (510) 200-6799
<div>
</div>
STOLEN NOVEMBER 28th/29th 2015 FROM ASPEN APARTMENTS
My bike was stolen while I was home for Thanksgiving. I don't have a picture of my own personal bike but here is a stock picture:
It is a SE Lager single-speed bike and has a large white scratch on the frame and the tape on the right handle bar is torn up in one area.
License Number: 4183689
Reported to Police on 11/29/2015
Contact me by email (kbpchun@ucdavis.edu) or by phone (559-308-6567). 
Thank you for the help. Reward will be given if someone assists me in finding my bike.
Stolen Sunday October 25th, 2015 (Between 8:20pm - 10:30pm): Silver Caloi Mountian Bike - Sigma Downhill Series
Stolen from the bike racks along the edge of the park, right across from Crepeville.
Silver frame  ||  26" wheels ("XKing" tires)  ||  Forward-bent handlebars (black rubber covers)  ||  Stickers: "Yolo Property Management - 0354" and "The Trail & Dock Shoppe"  || Front and rear shocks || pad-brakes
Report Submitted to police 10/25/2015
Please contact Alex Landry - alandry@comcast.net - 916-804-7954
Stolen Weekend of October 9th, 2015:  Men's Black/Grey Felt Dispatch Road Bike
Bike was stolen between 5:00 PM Thursday and 2:00 AM Monday in front of apartment 1807 at Arlington Farm Apartments.  It had a green TAPS bike light, a few reflective stickers, a topeak bike rack, black chain, and an aftermarket handlebar stem.  I had previously added plasti-dip, but it had since mostly peeled off, so only the main logo was visible.  This picture shows a white seat, but mine had a black Felt-brand seat.
Has been reported to Davis police.  If you have absolutely any info, please message or call me at jcmorales@ucdavis.edu or (530)761-8034.  Offering a $50 reward if a tip leads to its return or a $100 reward if it's returned to me directly, no questions asked.  
Serial #:S9IK01845
License #:4115199
Reported to Davis police on 10/12/2015
---
Stolen October 11th, 2015: Men's Red Mongoose Mountain Bike
Stolen sometime between 1AM and 3PM in front of the side entrance to 8th and Wake's North Tower. It had two lights in the front, one a wrap-around and the other a silver looking mini-flashlight. On the back it had a reflector, a rear light, a basket holder, a metal basket, and a mesh cover for the basket. The back wheel had a fender (I took the front one off), and the seat had some additional padding that could be manually removed. It also has a kickstand and a tiny canvas bag for storage located behind the seat. Lastly, there is a black metal water holder affixed to the frame (as seen in the picture below). It has 21 speeds.
Serial #: HM0536197
License#: 4183676
Police report filed on 10/11/2015.
If found feel free to e-mail me at niagarcia@ucdavis.edu or call me at 661-714-1418. Thanks.
---
Stolen September 9th, 2015: Women's Blue Avalon & Men's GMC Denali Road Bike
Stolen between 8PM and 5AM from the corner of Wake Forest and 8th street. Women's Cruiser has Kickstand, black water bottle holder, rear light on seat bar, and a holder for a front facing light on the handlebars. (water bottle holder and front facing light holder can be seen in middle picture). Men's Street Bike has kickstand, and a black water bottle holder held on by one screw, and one hook that was temporarily working. Front tire was completely flat when taken.
They were taken with U-locks attached so the thief(s) would have needed to walk down the street with them lifted, or use a truck to take both bikes. The below posting from 8/22 is across the street from my location so may be same person/people who took all three bikes.
Contact: Rachel C. (530)305-7038 or email Rnchurch@ucdavis.edu if you have any tips or leads
Reported to Davis Police 9/10/15
---
Stolen August 21-22, 2015: Blue Giant Escape 3 road bike
Giant Escape 3 (2014 model). Blue. 18.5-inch frame (Medium size). Men's bike. Has a kickstand and an ASUCD Bike Barn sticker. Serial #C44F8236. TAPS License #4114980. 21 speed. 700c tires.
Stolen between 8 PM on August 21, 2015 and 10:40 AM on August 22, 2015. Stolen from the bike racks on the east side of the 8th & Wake North building. Apparently someone cut through my Kryptonite u-lock. Reported to Davis Police on August 22, 2015.
Contact: Joe Corliss, 757-817-[zero]781, jgcorliss[at]ucdavis[dot]edu. Thank you very much for any tips.
---
Stolen August 18, 2015
A road bike was stolen in front of Veihmeyer Hall this afternoon (Aug 18 2015). Please contact me if you happen to see it around 530 6010410 Thank you!
---
Stolen between 7/30/2015 - 8/3/2015: Fuji Absolute 2.0
Black Fuji Absolute 2.0 men's bike. 24 speed hybrid. Black seat, purchased in 2014. It was stolen in front of the ARC. It has a bulky kickstand, thin black tires with silver rims, and flat handlebars. The bike is also pretty scuffed/scratched. Filed report to Davis Police 8/3/2015.
If found, please call 949-726-2519 or email tehollins@ucdavis.edu 
---
Stolen 7/20/2015: Gary Fisher Men's bicycle. 
Black and Silver 24 speed hybrid.  Black seat. Approximately 10 years old. Stolen from our garage on Villanova Drive in Davis in the late afternoon. 
If found, please call 530-758-2762 or email aabram1002@yahoo.com.
---
Stolen 7/20/2015: 2006 (?) Voodoo Rada. Green Road / Touring bike. I don't have the serial :(
Velomax wheels with red stickers, ultegra breaks, Kinesis carbon fork, FSA gossamer crank, drop handlebars on shorty Thomson stem, silverish WTB saddle
Stolen daytime from 1900 block of 6th St in SACRAMENTO. Police report filed with Sac PD 7/20/2015
If found please contact Jaime Ashander 
---
Stolen 7/2/2015: 2010 Specialized Rockhopper Comp. It is a red and white mountain bike. Serial # WSBC602194232F.
Stolen overnight from the bike rack at Academy Lane apartments, 1124 F St.
Reported to the Davis police on 7/3/2015.
If found please contact Josef Kay 831-227-1836  solojoe14@sbcglobal.net.
---
Stolen 7/1/2015: 2006 Fuji Team Bike.  It is a black and white (carbon fiber pattern) bike with a touch of yellow. Serial number: 785749615042.  Has wires for speedometer.  700 tires.
It was stolen in front of Wickson hall on UCD campus between 1:30 pm and 3:30 pm on Wednesday July 1st.  Was not registered and reported to the UCD Police on 7/1/2015.
If found please contact Kian Reno 530-304-2624 renokian@gmail.com 
---
Stolen 6/22/2015: Trek 7.0FX 15", silver. It is a hybrid, no shocks, 21 speeds. This is a kid's bike, the wheels are 700 but it has a short 15" frame.
Stolen from the bike racks on the west side of Meyer Hall sometime between 8:00 am and 10:30 pm on Monday 6/22/2015. It's brand new, not registered. Reported to UCD PD on 6/23.
my kid's bike... for 2 days.
---
Stolen 6/18/2015:
KHS Urban Xcape
Black, medium, wheel size 700c, serial number D12A02793, license number 40944
I left for a trip to the Bay Area Sunday night 5:55pm June 14th and left the bike in the Amtrak covered bike parking. I returned June 18th 12pm and found the bike missing. The spot where the bike had been had no sign of the bike or any bike cable remains. The bike had been locked in place with a braided insulated Avenir cable lock and Kryptonite cable to lock the wheels and baskets. All the older bikes that had been present when I left the bike were gone and only two newer bikes remained. It is possible my bike may not have been the only one stolen from that area.
Bike is a KHS Urban Xcape, black, medium, wheel size 700c, serial number D12A02793, license number 4094460. Bike has a Topeak bike basket carrier rack with two black bike baskets in the back and a front silver bike basket with struts attached to the front wheel frame and bolted to the handle bars. The handle bars have an extender making it taller than the standard model. The seat has a water proof covering with pins holding it in place. The seat has a spring loaded piston, not the standard steel bar. Seat and back baskets are locked in place with kryptonite mini cables and pad lock. Front handle bars have a Topeak Bar Extender for a front light to place the front light over the front basket. The bar extender is the most noticeable feature. Bike is a B&L built bike with a  label from B&L bike with my name on it on the main body of the frame.
This bike was my primary mode of transportation and being a student I do not have a car so this loss is significant to me. I am willing to give a $150 reward for information leading to recovery of this bike with ALL the parts and accessories intact. Contact me at: slittle(at symbol)ucdavis.edu
---
Stolen 6/14/2015: Mongoose Rockadile teal/silver 21 speed mountain bike, serial: HAWMB09599
Description: (posting a similar picture because I have no pictures of it). It's of similar color to the picture, blue and silver. It has 2 collapsible black baskets on the back of it, and a new black Schwinn saddle.
It was stolen from the bike racks below my apartment on Sunday night, near Alvarado and Covell. Please email hrrees@ucdavis.edu if you have any information about my bike. It's my only means of transportation so I'm really stuck without it!
---
Stolen 4/25/15: 1970's Peugeot road bike, royal blue 
Description:  Blue Peugeot road bike, late 1970's, black and white handlebar tape (that is WWF panda bear tape, yes it is adorable, and yes, this would be the only bike in davis to have panda bear tape), bar end shifters, coffee mug holder on the front, and a rack on the back, and a night rider light.  
It was stolen off my front porch in North Davis between 11 pm on 4/24 and noon on 4/25.
this is the same as the bike in question, however mine has black and white bar tape, and the entire fork is blue.
this is my bike, with a friend!
Any information, please contact Jenny at (518)727-1140. or email <jenny.vanwyk (at )gmail.com>
---
STOLEN  before 7am 3/17/2015 (Marin Kentfield dark blue bike)
Dark blue Marin Kentfield bike stolen outside my apartment (Casitas, North Davis). It has two registration stickers on the seat post, a small scratch on the seat,  and black shiny bar tape. The brake handles are shiny silver in black rubber (unlike in the photos). It has 7 rings on the cassette, and 2 chain rings (14-speed).  The tires are 700, and pretty worn down.
Please contact me with any information you have about my bike, it would be much appreciated:
Brynna at 707-494-0281 or bmthigpen@ucdavis.edu
Thank you!
 
---
Stolen November 29 or 30, 2014 between 3:00 PM and 9:00 AM
Stolen from my front porch! On University Ave between 2nd and 3rd. Bike: Specialized Tricross; size small; black, white, and silver frame; drop handle bars; red handle bar tape; brown saddle; rear rack and fenders; was stolen with lock. The only major change since this picture is the bike now has clips instead of pedals. Serial Number: WUD80809107D Reward: $150 or more. crbelden@ucdavis.edu
---
Stolen November 17, 2014 between 2:30 and 4:15 PM
Stolen from bike parking lot under east side of Briggs Hall, UC Davis Campus. Bike: Masi Evoluzione Apex, 2012 model, 47cm frame, black Lizard Skins tape. See image. Changes since photo taken: front tire replaced with Continental Gatorskin, Blackburn CF cage on down tube, black bracket for pump on seat tube. Serial Number: Available upon request. Reward: $300 Contact: zikhoury.dms@gmail.com
---
STOLEN night of Wednesday, November 5th, Trek Fuel EX 6.5 (2008 | Blue finish | Full Suspension) $150 Reward
Stolen from in front of 5th Avenue Place apartments at the intersection of Pole Line Rd and 5th street between 10 pm, Nov 5 and 8 am, Nov 6. Bike: Trek Fuel EX 6.5 - (Image is not of actual bicycle; fair to good condition) Serial number: [to be added] Reward: $150 reward for recovery of the bike. Contact: hmarchaeo@gmail.com
STOLEN night of Friday October 31st, Motobecane 29er SL (silver hardtail)
Stolen from in front of 8th & Wake apartments on Wake Forest Dr. Bike: Motobecane 29er SL Pro (Large Frame—larger then in picture—black mavic wheels) Serial number: [to be added] Contact niwals+bike@gmail.com
STOLEN between Tuesday, October 28th - Wednesday, October 29th, Fuji Sunfire (Black and Silver)
Stolen from: The parking spot in front of Sigma Nu Fraternity in Cuarto. Bike: Fuji Sunfire Serial number: ICFJ11I10802 The bike looks like the picture and has a scratch on the left gear-meter It was stolen between Tuesday 28Oct at 11pm - Wednesday 29Oct at 10am Contact method: ssbaghlaf@ucdavis.edu
STOLEN Between Thursday, Oct. 9th - Sunday, Oct. 12th, Trek Mountain Bike (Black, Blue, White)
Bike was stolen from within Davis Townhouse Apartment Complex (across from Central Park on the corner of 4th and B street). The bike is fairly large, with big Bontrager tires. Has a 'freewheeler' sticker that includes the product ID number. The left side of the fork and handle bars has been scratched by the U-Lock. Has hydraulic shimano disk brakes, and shimano gear shifters. White seat with red and blue stripes.
Any info would be great mgwwong@gmail.com
Gracias!
STOLEN Friday, October 3rd between 12pm and 5pm, Trek Road bike (Black, Silver, and Red)
Road bike, Trek 1200 SL - an older model racer - aluminium frame with carbon fiber fork. 18 speed. 700c wheel size. Approx 20 inch frame. Looks almost exactly like the photo. Two water bottle holders attached and pedal cages. Trek decal slightly peeling. TAPS sticker and CA bike license sticker were on the frame below the seat post facing the front of the bike. Bike was stolen from Aggie Gardens apartment complex parking lot.
If you have any info please contact me at pjbitt21@gmail.com
Thanks!
STOLEN between September 20 and September 23, Diamondback Vital 2
Dark blue diamondback back 21 speed bike. Had a black wire basket on the front and a drink holder on the frame. Black Fenders. Nearly identical to the picture except with the items mentioned added (sorry for the bad quality, never actually got a photo of the bike). If seen or found please contact at selena.h127@gmail.com.
STOLEN September 11th late pm or 12th early am, 2014, Trek 7000 WSD with DoggyRide Mini trailer
Light green 21-speed bike (with clover markings) and trailer. Bike has checkerboard duct tape over rusting spots on frame, plus a kickstand, back rack with white rainflap attached, quick release front tire and bolted back tire, and unique star washer setup for trailer hitch attached to back tire. Trailer back pouch had dog toys, water bowl, and clip-on light. Trailer color has faded since picture was taken. Stolen from carport overnight on Sept. 11th from Woods Cir in West Davis. Please contact if found: mbaskett(at)gmail.com.
STOLEN September 2, 2014 Raleigh Cadent 2 Black Between 7:45 am - 2:00 pm
Looks almost identical to this picture except it has a rear rack, with one collapsible basket on the left side. On the other side there is place for a removable soft carrier. Kickstand is below rack at back wheel. The seat is a grayish color, that was not standard to the bike Only two months old. Stolen from in the bike racks on Old Davis Road at the Robert Mondavi Institute. Please contact if found. kathryn.v.pratt@gmail.com
STOLEN MAY 29TH 2014 12PM-6PM WINDSOR KNIGHT ULTEGRA 30SPEED
Looks identical to this picture with a few exceptions. Has TAPS stickers at base of seat post holder. Has a rear cargo carrier and red under seat storage bag. Seat post is locked with special key. Has a white carbon fiber seat instead of pictured black seat. Also has 105 SPDL clip in pedals. Was stolen from behind my patio wall on Sycamore Ln behind the Petco. Patio was locked. Whomever stole the bike left a beat up white Mongoose mountain bike outside my patio.
Please contact thehand81@gmail.com with any information.
Thank you.
Mike
STOLEN APRIL 18, 2014 3AM-10AM - TREK ROAD ALPHA 1.1 BIKE
BLACK HANDLEBARS AND BLACK SEAT (2 rips in seat)
Stolen from INSIDE house contact: adi.hamou@gmail.com
= STOLEN MARCH 12, 2014 - WHITE BIANCHI SINGLE SPEED =
Stolen from in front of the house. Contact: marusa@physics.ucdavis.edu
= STOLEN JANUARY 15, 2014 - SILVER AND BLACK 1973ish NISHIKI COMPETITION 10 SPEED
Was parked at the Multifaith Living Community behind Cal Aggie Christian Assocation between 9:00pm and 11:30pm on 1/15/2014. Grip tape is black and the bike did have a slot for a flash light on the front handle bars. The bike had a black seat with details on flyer below. If you see this in person or online please contact me ASAP. Bike has been reported to the Davis Police Department but I definitely would like any other extra help. Thank you!
Contact: maryling707@gmail.com CALL/ TEXT: 559-363-2409
STOLEN JANUARY 11, 2014 - WHITE AND GREEN FUJI FINEST 1.0 ROAD BIKE
Was parked by Gladys Valley Hall and Scrubs Cafe by UC Davis Veterinary Campus between 11:30am and 1:30pm on 1/11/14. Grip tape is white and the bike did have on a flash light on the front handle bars and a red blinking light behind the seat. The bike also had a rack covering the rear wheel. If you see this in person or online please contact me ASAP. Bike has been reported to the Davis Police Department but I definitely need more eyes out there.
Contact: gyng@ucdavis.edu
STOLEN WEEK OF JANUARY 6, 2014 - TURQUOISE AND ORANGE SPECIALIZED SIRRUS
It was noticed gone this morning, Jan. 8th, but could have been stolen a day or two ago. Taken from right in front of unit at Pinecrest Apartments on J Street. The frame is an 11" men's road bike, turquoise with orange writing. The parts are Shimano 105s, and most accessories (grip tape, pedals, tires) are orange. If seen in person or online (eg. Craigslist, etc.), please contact me ASAP. The bike was registered and the theft has been reported with the Davis Police Department, but any help would be greatly appreciated.
Contact: esther.dicarlo@gmail.com
STOLEN NIGHT OF DECEMBER 5, 2013 IN EAST DAVIS - BAKFIETS
My daughter's Bakfiets was stolen from their apartment complex on East 8th Street overnight. It was chained to another bike and a pole in the parking lot with a heavy duty chain. It also has a lock integrated into the rear wheel which can only be unlocked with a key. The other bike was locked to the Bakfiets with a u-lock. Both the chain and u-lock were removed somehow and, curiously, the other bike was left behind. We are beyond sad about this since this is our daughter's only means of transporting her 2 children (1 and 4). As a family we have been car free since 2003 and my children (both adults) have never driven cars, relying solely on public transportation, their feet and bikes. This is like someone stealing a family's only car.
Rob Davis: robbathome@gmail.com
</div>