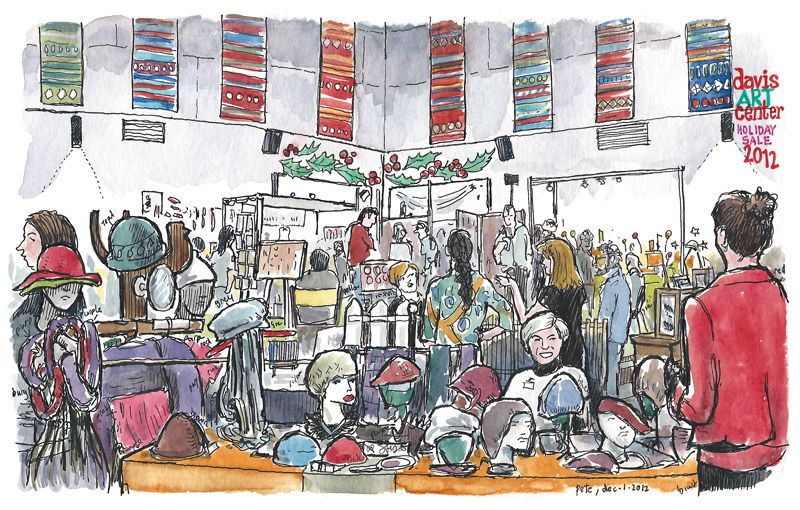 (Drawing by Pete Scully)
A well-established Davis tradition since 1985, the Davis Arts Center Holiday Sale is turning 25! 
Sale hours are Friday, December 4, Noon – 7pm; Saturday, December 5, 10am – 6pm; and Sunday, December 6, 10 am – 5 pm, at 1919 F Street in Davis. The event is the Arts Center's largest fundraiser, with fifteen percent of sales directly supporting the classes, gallery exhibits, and community programs offered by the non-profit organization year-round.
With more than 60 fabulous, select, artisan vendors offering unique hand-made gifts – including ceramics, sculpture, glass, wood, textiles, clothing, housewares, oils, candles, soaps and numerous edible goods – the Holiday Sale is the destination for families to start the shopping season. Items range from $1 to several hundred, so visitors can find great gifts to fit every budget.
A major new addition to the Annual Holiday Sale is a dining area with beer, soup and food provided by Sudwerk Brewery and the Davis Food Co-op. Sudwerk Brewery will be offering some of their amazing collection of beers and Co-op will offer a varied menu including wraps, salads, baked goods and the long-awaited return of soups. Prices range from $2-10 per item.
A very special part of the Holiday Sale, the Children's Secret Store (open Friday through Sunday), is for kids ages 3 to 12 – no parents are allowed inside! The Secret Store offers a wide variety of unusual items, many of them made by local artists and eco-friendly, ranging from $1-$9. With the help of their own personal shopper, children can choose gifts, receive complimentary gift wrapping and have gifts ready for delivery all before leaving the store.
To accommodate children with special needs, the Secret Store will open Wednesday, December 2, from 1-7 pm.  Space is limited during these hours, so please reserve a spot for a child who needs more time, more help, or a quieter atmosphere to enjoy the experience of shopping on his or her own, contact the Arts Center at 530-756-4100.
Other fun activities for all ages include decorating your own ceramic plate, mug or ornament in the do-it-yourself Pottery Studio. Visitors are encouraged to bring the family and make a day of it: stop and enjoy a bite to eat, glaze a one of a kind ceramic plate and jumpstart your holiday shopping with this annual holiday tradition.http://www.davisartscenter.org/events/event/davis-arts-center-annual-holiday-sale-2/.